One of the latest crazes in giant video game fun is DDR -- Dance Dance Revolution!
It's even been Featured on the "Today Show" as the hottest new way to work out!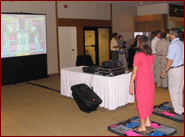 DDR takes on a whole new look with a giant screen and an great sound system. And we only use the #1 rated Red Octane Dance Pads.