Decorative lighting is a great way to add color and excitement to any banquet room. Projection gobos can be used to add a simple highlight, a company's logo, or scenic image.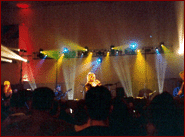 Floor mounted light fixtures can add color wash or combine company colors with gobo projections. Color washes add accents to walls, ceilings and even floors. Lighting displays can also be used outdoors on the ground or the side of buildings.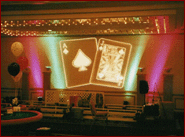 We offer many standard themes such as sports, the 50s, casino, jungle/survivor, luau, Hollywood, or we can custom design a theme to suit your special event. Turn your next event into a gala presentation.