Karaoke! Where you are the star of the show! Sing along to your favorite tune -- you are the star of the show. We have music for everyone and every taste...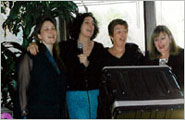 Thousand of available song titles and artists (from Andy Williams to Led Zeppelin) in all genres of music that will appeal to young and the young at heart.
Karaoke systems are available in two configurations. First as an add-on to a disc jockey system, where the party can go back and forth between dancing and karaoke. Secondly as a remote stand alone system with it's own speakers and operator, to be alternative entertainment in a second room or lobby.